Dancing for Healing & Bodywork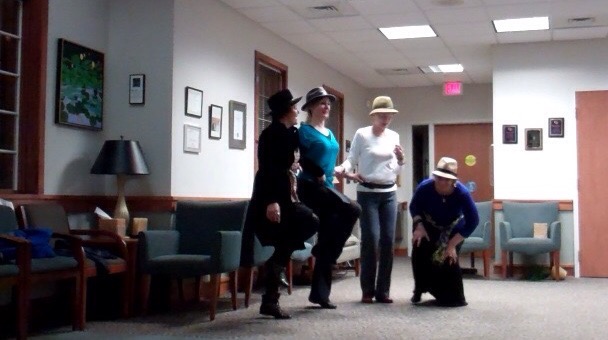 NEW CLASS
Discover Inner Balance Through Movement and Touch
Monday Aug 20th 5:15pm
Sun Aug 26th at 12:30pm
Developing an Extraordinary Port-De-Bras
For Beautiful Lines and Fun
I am offering these exercises because your compromised postures are haunting my dreams. These subtle but precise movements are coming from the unmatched tradition of the Classical Russian Ballet.
Once learned to be performed correctly, they:
Will allow you to gain postural control in a short time.
Will serve as a cardio-vascular conditioning
Will increase extension, produce beautiful lines, and develop extraordinary port de bras.
Are perfectly easy done few minutes before breakfast
After this class, you'll never be able to slouch your back, even if you want to.
* Port de Bras (Fr. for upper-mid-back) is what is so, soooo in need of being reeducated and reintegrated in your postural patterns.
Every 2nd Tuesday of the month at 7:00 pm
The Dynamic Postural Control through tango Walk
The class will start with:
Self-Myo-fascial release techniques for lower extremities
static stretching
breathing meditation
review of Port-De-Bras postures
Tango dance demo from Memphis Argentine Tango Society
all of the above - no longer than 15min
Practicing the Tango walk 30 min
Focused breath meditation
dynamic stretching 5-10 min
Practicing the Tango sequence of the different gait phases will prepare the lower part of the body to wear the Middle-Upper-Back like $1,000,000 suit.
The benefits for you from this work-out range in:
reducing low back pain through reestablishing the pelvis- lower back connection
relieving the neck muscles from having to compensate for the insufficient lower body motor control
better balance and coordination
integration of your Gluteal muscles BACK in the walking business (instead of just "sagging in there")
training the muscles of lower extremities and pelvic Girdle to WORK IN CONCERT
wakening of your muscle tissue memory for proper function
GAINING DYNAMIC CONTROL over your Posture - through automatizing the transition between concentric, isometric and eccentric muscle contractions
reeducating your brain in the GAIT PATTERN of:

a tanguero
or a Cat
or a Bengali tiger
The Girl from Ipanema
Crocodile Dundee

no more feeling like "The great Imposture" (ctn. JimMcGee) at any party
feeling like $1,000,000
CAN YOU DO THESE MOVEMENTS?- Yes, and I will be there providing the CONTROLLED and SAFE ENVIRONMENT for your muscles and their lost memory for healthy function.
Practicing this walk for 5 min a day is all I am asking you for.
Every 3rd Tuesday of the month at 7:00 pm
Dancing for "The Self And Its Brain"
Before we explore Salsa, Flamenco, Oriental and Different Folk dances, before we dance to a painting, a sculpture, a poem, a child or an idea or start other forms of interpretive and expressive movements, we have to reinforce the fundamentals—
Static and Dynamic Postural Control and Balance and Coordination integration
Bring a large towel, comfortable shoes
The class will include:
Free Dance I (externalizing what arises in our bodies, at this moment, in a nonverbal form - body movements (with or without music)
self-Breema exercises (for enhancing the kinestetic awareness) - www.breema.com
static and dynamic ACTIVE stretching
review of Tango walk
stabilizing the trunk during walking and introduction to trunk-pelvis counter rotation(you'll be ready for salsa and Belly dancing)
practicing various gait patterns at different tempos and music
Free Dance II
comparing the degree and quality of expression between the two Free Dances - at the beginning and at the end of class
Focused Breath Meditation
Every 4th Tuesday of the month at 7:00 pm
Flamenco for Arthritis and Osteoporosis
One hour of Flamenco( bail) "tangos pas" and arm movements will :
Mobilize arthritic joints
Improve muscle balance
Bring percussion and weight bearing to the long bones - which stimulate osteoblasts formation
Enhance the capacity of the brain to differentiate body parts and integrate them through coordinated movements of hands and feet
Facilitate posture, alignment and coordination
Electrify the heart
Connect it with the mind
Encourage your spontaneity
Make every cell of your body vibrate with the frequencies of the universe
And you will arrive at the state of FREEDOM
Every Thursday at 6:00 pm
Cancer? So what! Defy it with Dancing For Healing
Increase your stamina
Drain the lymphedema
Hold on to the fun
Embrace the present
Dance off the fear
Learn to reach out for help
Trust the help
Get close to your bones to discover what you need to change
Take the change
And the lead